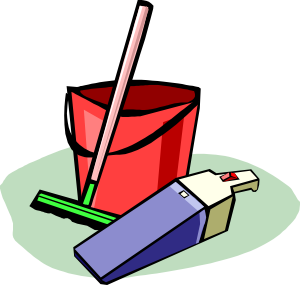 I always thought I would get completely used to disorder and messes: rug stains, dog fur on the stairs, bird feathers on the tile, scuff marks on the walls, unloaded trash cans courtesy of my dog, bath towels in piles, toothpaste next to the sink. I always thought I would arrive at some kind of disarray nirvana (OK, I'm still Christian, not Buddhist; I use nirvana in only the incorrect Western understanding of the word). I thought I might reach a place where such things ceased to even leave a dent in my emotional peace or mental well being.
This does not mean I'm a neat freak. I've got my own little thing going with unrelated stuff anarchy (USA for the uninitiated; funny how that's the abbreviation for our great nation – wonder if there's a connection?). I can peacefully walk by our piano covered with Bibles, old school papers, parts of toys and CDs and not feel a hint of remorse or anxiety. It's wonderful.
What, there's a few crumbs on the kitchen counter? Pshaw and fiddlesticks, those will eventually get swept away or possibly eaten by a roaming domestic varmint (Yes, you're correct, that would be an RDV, also known as a CAT). I can work in a home office with piles of unrelated papers nearby, an empty sports drink bottle on the desktop and a spoon with streaks of early morning food still on it next to the telephone. Ah, the pure joy.
But there are moments, and sometimes more than I like to admit, where it just kind of weirds me out. I think I inherited that from my dad. My mom has never been the neatest person in the world. Just check her apartment in our walk-out basement for confirmation. Mom never felt that great when I was growing up so I give her some slack on this. But I also don't think she's a very neat person, period. She'd admit it to you herself if she blogged.
My dad could live with that for some time and then all of the sudden, like his mind had hit a "gotta clean this junk up" tripwire, he would dive into weeks of direct mail offers, throwing away old letters from Ed McMahon promising millions and advertisements for the amazing gizmo thingee that will make fabulous Julienne French fries in a snap! Dad's cleaning fits are probably why I never ate a Julienne fry growing up.
So I think I must have inherited that little piece of programming from my dad. Piles of dishes get to me. We're doing better but now and then, especially when life Has been crazily overscheduled, things get away from us. But then the sight of this morning's breakfast still on a plate in the sink turns my internal blinker on and away I go.
There are times when doing it yourself is not permitted. Which is tough, because it's like that old saying I just made up – see a mess, clean a mess. As a parent, I need to teach my children how to care for their own stuff. Our most common comment to our kids: "We're not asking for perfect, just neat – neater – OK, not as ratty as it is right now."
Even still, I hit a threshold. Like, why in the world has this kid not figured out that bath towels either get hung to dry or if they're nasty enough put into the laundry hamper? And why does she need three towels anyway?! What is up with all that!?
And what about that small box of pizza crusts I found in the playroom the other day? Behind the containers of Legos? Didn't it hit any of their minds that, "Hey, I'm done with the pizza in this box, I should throw it in the trash can." But noooo! There it is.
OK, you're probably chastising me right now. "Well, don't let the kids eat anywhere but in the dining room then." I know, I know. We have banned kids from eating in certain rooms before. Like I said before, we can be fairly lax about this stuff, at times. We try to be open with the kids about eating next to the computer or while playing a video game, on the condition they throw their trash away at the end of it all. When that doesn't happen the ban is effected.
But this isn't really about disciplining our kids regarding their cleaning habits, or lack thereof. Its about what God has shown me about easing up on all this, setting reasonable consequences, but also not getting hacked off, like in a threatening or mean way about pieces of packaging tape on the wall or pin holes in the door. So where is this going? It's going here: "Be completely humble and gentle; be patient, bearing with one another in love" (Eph. 4:2, NIV).
It seems that God has been trying, over the years, to get me to loosen up on how good things looked. He's been working on me about this whole "relationships are the important thing, not your neatness requirements." There has been growth. I'm nowhere near as hung up on things being in a loose condition in the house or around the house. We tidy up on a regular basis and do basic home maintenance as needed but our good feelings about ourselves are not tied to how things look, as least not as much as they used to be.
Some would call this approach lackadaisical. I don't think so. I would rather have chalk drawings on the sidewalk and grass in unique growth patterns in the front yard. That doesn't mean we don't try to make the grass grow where Chinook the dog has killed it, but our contentment doesn't ride on that happening. I'll take the boxes of plastic bats on the porch over wicker rockers any day.
We're planning to scrape, sandpaper and repaint a glider this summer that belonged to my mother-in-law Lois. But for the last nine years it's been on the porch, getting used by children and adults in its current rusty, paint-chipping condition. And we just got rid of the holey and mildly shredded cushions that use to lie on the glider.
Steven Curtis Chapman wrote a song along these lines many years ago now. He called such randomness "signs of life." So I've come to feel, in almost a romantic fashion, that the pair of disposable 3-D glasses I find in the mini-van, or the piece of Superman's arm under the couch, are our family's particular signs of life. They are the wake that we've left as we've tried to follow God with each other, our family, friends and neighbors. So we went from a birthday party for a Bible study kid and then off to the hospital to visit a friend to a softball game for one of our kids. Things get lost in the shuffle with a life like that. Do we still need to work on picking up, on the spot, instead of leaving things? Yes, guilty as charged. But I shoulldn't go crazy just because I find that stuff now and then.
So, what about nirvana? Maybe that was never the right place to hope for regarding my soul's response to the messes and random bits of trash. Nirvana implies total contentment and disregard for worldly concerns. God never called for that. He wants us to choose love in the midst of the tension between his Spirit and our flesh. I hope that's where I'm heading. Especially when I see a pile of dishes in the sink later today.